If you look through our offerings of historic Texas city views, you will notice that one artist was responsible for more than half of them.
His name was Augustus Koch, and only the briefest of biographical information has been available for him.
He was born in Germany.
He served in the Civil War.
He drew city views for two decades after the war.
He spent a lot of time in Texas.
No one knows what happened to him after the mid 1890s (some say he went back to Germany.)
Let's see if we can can flesh him out through the magic of the internet.
I'll start with Texas newspapers. Surely an artist spending that much time in Texas would be profiled at some point.
The first mention I find is from Brenham in 1881. Interesting, but tells us nothing about the man.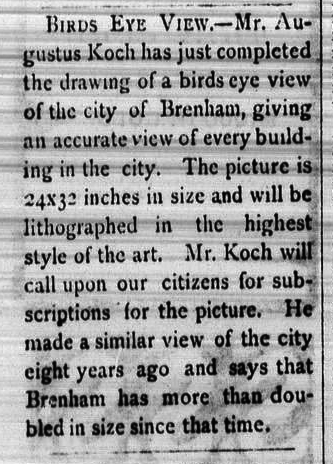 Then a notice from Schulenburg that same year.
In 1885 I find him staying at the Washington Hotel in Galveston. His residence is given as Kansas City. That should be useful, but let's stay in Texas papers for now.
Also Galveston in 1885. The editors of The News were impressed with his work, but say nothing of the man himself.
Galveston in 1885 again.
In 1887 we find him in Austin.
Then the papers go quite until 1908, when this article about his 1873 San Antonio view. Once again, praise for the art, but nothing of the man.
And the final newspaper clipping from the San Antonio Light in 1931. Maury Maverick (coiner of the term 'gobbledygook') praised his accuracy.
Time to leave the papers behind and check genealogical records. Guess I should have started there.
We immediately find our Augustus Koch was born in Birnbaum, Prussia in 1840. This area was made part of Poland after WWII.
Here are his parents, Heinr and Josephine in late life.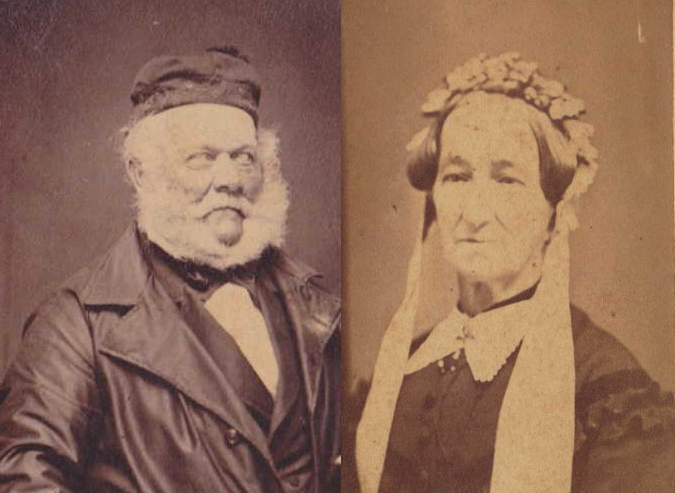 By 1849 his family is in Wisconsin. That was unexpected. When the war came along he enlisted as a private in the 9th Wisconsin Infantry.
Later he was commissioned a second lieutenant in the 51st US Colored Infantry and spent the rest of the war on the lower Mississippi. (All officers in the United States Colored Infantry were white.)
This probably explains why his maps always note black churches and schools in the community.
He is listed as an engineer and he is noted as drawing a map of Vicksburg.
And at long last, here is the man artist in the flesh:
After the war he goes to California, where he draws town views and marries a Swiss miss. They would have two sons and a daughter.
The family settled in Kansas City from which he would head out several times a year to spend weeks at a time making hundreds of sketches of some far away city which were required to produce his bird's eye views.
The 1870s and 80s were productive for him, but sadly, his health began to fail in the mid 1890s. He died of Bright's Disease in Los Angeles on Christmas Day, 1899. He was fifty-nine.
Thanks for reading. I know none of this is earth-shattering. I just like to get to know the people who made these things and thought I'd take you along for the ride.