Suppose your boss told you to go fly a kite.
Not only that, suppose he wanted you to hang two pounds of dynamite from your kite and light its five-minute fuse as it left the ground.
At least you wouldn't be alone. Twenty of your co-workers got the same memo.
That really happened back in 1910 on Charles Post's experimental farm in Garza County.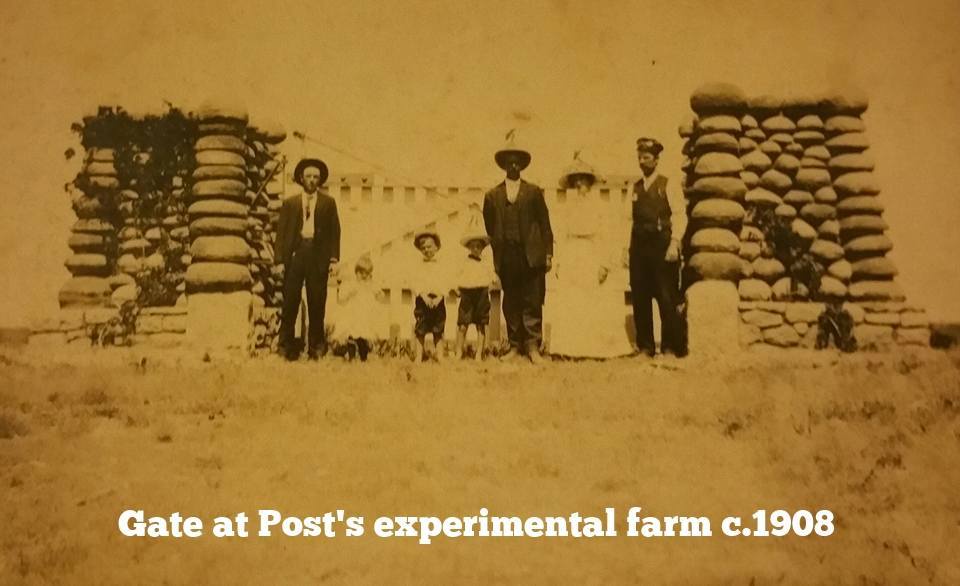 Experimental or not, crops can't grow without water, and the panhandle sky was not cooperating. So Mr. Post declared war on the clouds.
There was a logic to his odd plan. He had heard from Civil War veterans that cannonading frequently brought rain. He was further encouraged when he learned the same phenomenon had been observed during the Napoleonic wars.
Post was an inventive man by nature. Back in his native Illinois, he had built and patented several farm implements, including a seed planter, a hay-stacker, and an improved sulky plow.
Alas, the Illinois Agricultural Works experienced financial difficulties. The stress led to a breakdown, and Post's physician advised him to seek a warmer climate for his health.
He chose Fort Worth, where in 1887 he purchased a small ranch and subdivided it into home sites. So that his prospective buyers would have employment, Post built two mills on the land. One would produce blankets and the other would turn cottonseed hulls into paper.
His enterprise found success, but after three years his mental and physical health had degraded to the point that he was confined to a wheelchair. Post's wife and parents put him on a train to Battle Creek, Michigan, where they hoped he would recover at the Sanitarium of Dr. John Harvey Kellogg, he of corn flake fame.
Two years under the care of Dr. Kellogg had left him little better. At the encouragement of a cousin, Post consulted a Christian Science practitioner who told him, "act as though you are well and you will be well." This seems to have done the trick.
His health recovered, Post founded a sanitarium in Battle Creek to compete with Kellogg's. He also began formulating healthful foods for his guests to enjoy during their stay. Postum cereal beverage and Grape-Nuts cereal made C. W. Post a very wealthy man.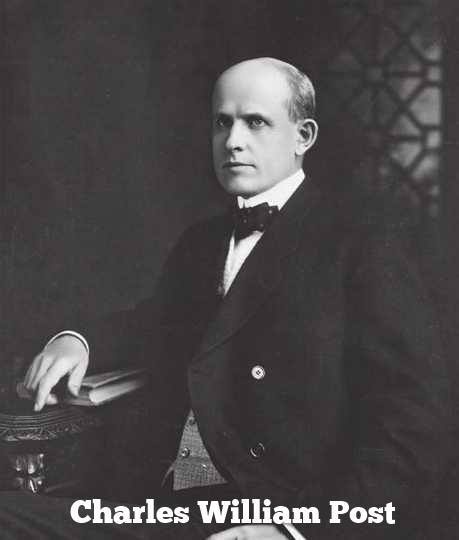 That's when he turned his attention back to Texas, where he wanted to build an individualistic Utopian community to demonstrate that capitalism is superior to socialism.
In 1906 he purchased 225,000 acres in Garza and Lynn counties, platted the town of Post City, and set up his experimental farm. Which returns us to his need for rain and the scheme to dynamite it from the heavens in the spring of 1910.
Everything was ready. The twenty kitemen were set a quarter mile apart, each prepared to send twenty charges aloft, for a total of 800 explosive pounds.
But nature surrendered before the first fuse was lit. Rain began to fall.
Small scale trials in the coming weeks convinced Post that the kite idea was likely to get somebody killed, so it was abandoned.
His new plan was to station men every fifty feet for a quarter mile along the rim of the Cap Rock. Each would set off fourteen three-pound dynamite "rounds" over the course of an hour. Post called this a "rain battle."
He lost the first one when no rain fell, but wasn't discouraged. He tried again few weeks later. Boom went the dynamite and a shower followed shortly thereafter. Post was convinced he had something.
Over the next three years the hands on Post's experimental farm fought another eleven rain battles and claimed a 40% success rate. The largest of them consumed 24,000 pounds of dynamite, and according to witnesses, produced a refreshing rain.
Post's atmospheric war ended in 1914. What happened is hard to pin down. Most reports say he suffered another breakdown, as well as appendicitis. His private train rushed him to Rochester, Minnesota, where he was operated on by the brothers Mayo. While recuperating in California, he was overcome by depression and shot himself.
The company C. W. Post had built went to his daughter, Marjorie. She must not have been a believer in dynamiting for precipitation, as no further rain battles were fought.
A few years later Marjorie married E. F. Hutton. When he talked, people listened. Together they expanded the Postum Cereal Company into the grocery goliath known as General Foods.
The couple moved to Florida and built a nice house. They called it Mar-a-Lago. It's still there. Maybe you've heard of it.
Post City is still around too, but the name has been shortened to Post. It's the seat of Garza County, and though it has not grown into a goliath, its home to some fine people.