It was Texas Independence Day, March 2, 1910, when military aviation came to Texas.
 
Lt. Benjamin Foulois of the Army Signal Corps had arrived at Fort Sam Houston two weeks earlier, along with the Army's first aeroplane, a 25 hp wood and cloth contraption purchased from the Wright brothers for $30,000.
 
There was much to be done though, before that first flight, timed to celebrate the anniversary of Texas Independence. The plane was in crates. As the box says, "some assembly required," and Benny Foulois was obligated to do the assembling himself.
 
But there was a second minor issue to consider: Benny had never flown, except as Orville Wright's passenger. Wilbur Wright had just begun teaching him when the Army ordered Benny to take the plane to Texas and teach himself to fly it.
 
He had never soloed, taken off, or landed. Wilbur was kind enough to continue the flying lessons by mail.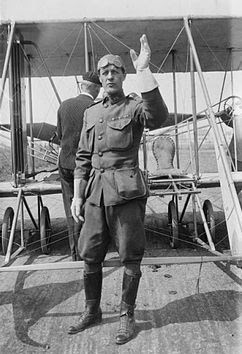 Somehow, Benny managed to take off from the Arthur MacArthur parade field, circle the field and land safely. So he did it a second time. And a third.
 
Unfortunately on his fourth attempt, the feed pipe to the engine broke loose, sending Benny and the aeroplane back to Earth from a height of forty feet. 
 
The plane was hurt worse than the man, but both were soon back in the air. Benny flew it 62 times over the next few months. 
 
Alas, the plane had to be retired from service the following year. It was in poor condition after being wrecked and rebuilt by Benny several times. Benny himself was not retired until 1935, as Chief of the Air Corps and a Major General.
 
But back to the morning of that first flight…in the crowd was a ten year old boy who would leave his mark on aviation in Texas and beyond.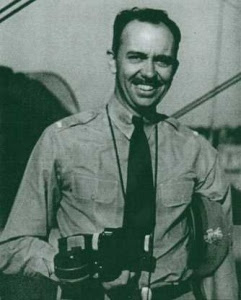 Carl J. Crane became an army flier and served several years as an instructor at Kelly, Brooks and Randolph fields here in Texas. In 1929 he teamed up with fellow Texan William C. Ocker to create a revolutionary flying system.
 
Their book, Blind Flight in Theory and Practice, was the world's first manual on instrument flying. 
 
Ocker, twenty years older than Crane, was a member of that first generation of Army fliers.  Most of the earliest aviation instruments where his inventions and he gave all his patents to the the government. 
 
In 1930 he made the first cross-country flight in a completely covered cockpit. He flew from Brooks Field in San Antonio to Scott Field in Illinois, taking off, navigating and landing using only instruments.
 
Charles Lindbergh and Amelia Earhart were taught instrument flying by Bill Ocker personally.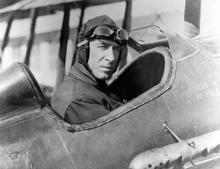 Bill Ocker and Carl Crane began to put their ideas to use training army pilots in San Antonio. They even built one of the first flight simulators. But army brass thought instrument flying was too dangerous and constantly held them back. It was not until 1942 that Bill and Carl's ideas were fully adopted by the army.
 
The Soviets, on the other hand, saw the advantage of instrument flight immediately.  They pirated Bill and Carl's book as soon as it was published. Blind Flight in Theory and Practice became a standard text for all Soviet pilots.