Have a look at this 1906 photograph.
It was taken at the last annual meeting of the Texas Veterans Association, held at Goliad in April of that year. Six of the last ten surviving members of the Texas Army attended.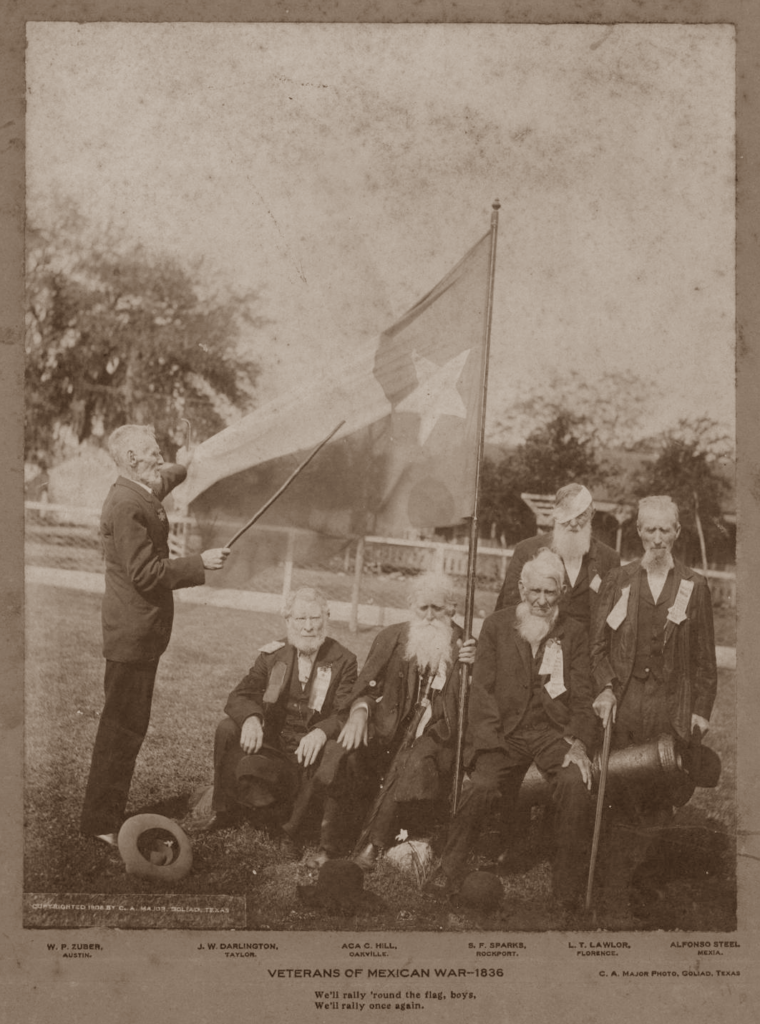 Pictured are:

William Physick Zuber (1820–1913) of Austin. He was in the rear guard, on the other side of Buffalo Bayou, during the Battle of San Jacinto, and took part in the Somervell Expedition of 1842. He also served in the Confederate cavalry, farmed and taught school in rural Grimes County. He was a charter member of the Texas State Historical Association. It was Zuber who first recorded the story of Travis' line in the sand.It had first been told to his mother by Moses Rose, while she patched him up after his escape during the battle. Some historians doubt the story, but it does not make sense that Rose, who told the story often, would create a tale that paints him as a coward.

John Washington Darlington (1821–1915) of Taylor. He fought in the Battle of Plum Creek, fought against Vasquez and Woll during the raids of 1842, and helped build the first capitol building at Austin. He also ranched and served in a ranging company during the Civil War.

Asa Collinsworth Hill (1826-1913) of Oakville. At first I didn't think he belonged with this group, as I couldn't find any record that he served during the republic years, though his father and brothers did. I was finally able to track down a reference to a note he wrote about his service in the Mier Expedition. There seems to have been some historical confusion caused by the fact that his father, also called Asa, took part in the expedition as well. Sam Houston took young Mr. Hill to Washington as his personal secretary when he became senator in 1846. Hill commanded a spy company during the Mexican War. He was a Texas Ranger captain before the Civil War.

Stephen Franklin Sparks (1817-1908) of Rockport. He fought with Ben Milam in the Siege of Bexar and took part in the Battle of San Jacinto. Sparks Colony near Rockport in Aransas County was home to the old warrior and his kin.

Levi Teague "Uncle Lee" Lawler (1826-1915) of Florence. He took part in the Somervell Expedition of 1842, for which the State of Texas paid him $67.50 twenty years later. Uncle Lee was a carpenter and a farmer. He served in the Williamson County militia as 1st sergeant during the Civil War.

Alfonso Parcutt Steele (1817-1911) of Mexia. While delegates met at Washington on the Brazos, Steele worked at the local hotel, grinding corn for their bread and tending to their needs.  He was the last surviving participant of the Battle of San Jacinto. In one of the battle's first volleys he was shot through the lung. He continued to fight, though blood was pouring from his nose and mouth. General Houston rode Steele's horse through much of the battle, until it was shot from under him. Once recovered from his wound, Steele farmed and raised cattle in Montgomery County. After marrying he made his home in Robertson County and later in Limestone County.

The Texas Veterans Association was an organization of those who performed military service in Texas prior to annexation. It held its first convention at Houston in 1873, with about seventy-five veterans present The annual meetings always took place the week of April 21, San Jacinto Day. 

The association dissolved the year after this photograph was taken, and its work was taken over by the Daughters of the Republic of Texas.