Legends and misconceptions seem to go hand-in-hand.
Take the Bowie knife.
The term came into common use on the frontier after the 1827 Sandbar fight in which Jim Bowie disemboweled an attacker with a large knife.
Bowie had already been shot in the hip, pistol-whipped to his knees and stabbed with a cane sword.
In fact, Norris Wright was trying to free his sword from Bowie's sternum where it was stuck, when Bowie gutted him.
Some folks might say Jim Bowie was tough.
But back to the knife.
It wasn't the familiar clip pointed blade we know today. It was a large butcher knife made by Rezin Bowie, Jim's elder brother. (Rezin described the knife in an 1838 article as being nine and a half inches long, an inch and a half wide, and without any curve.)
For the next few years any large knife carried by a frontiersman was referred to as a Bowie knife.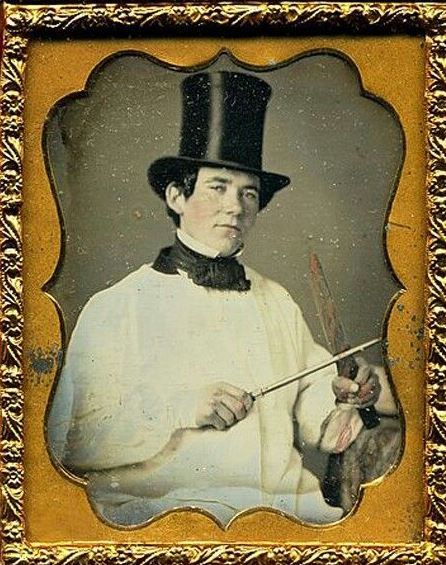 Fast forward to 1831: While involved in an Indian fight West of San Antonio, Jim's hand slipped down the guardless handle of his old butcher knife and was cut badly.
This caused him to ponder his knife's shortcomings, and to whittle a pattern for a new one out of wood.
A clipped point would make for easier stabbing, while maintaining the heft and width of a butcher knife along the rest of the length, giving it the chopping power of a small ax. Most importantly, it would have a guard.
Bowie gave the pattern to blacksmith John Sowell at Gonzales and asked him to make the knife.
A lot of folks claim that the Bowie knife was actually made by James Black, a blacksmith in Washington, Arkansas.
That not true.
Here's how James Black figures into the Bowie knife heritage.
Like I said, Jim Bowie was disappointed in the shortcomings of a large butcher-style fighting knife given him by his brother, so he whittled a new pattern out of wood and took it to blacksmith Sowell.
That was late in 1831.
Early in 1832, while Sowell was still working on the new knife, Jim Bowie made a trip to Arkansas.
While in the wilderness, he lost the butcher knife brother Rezin had given him. There was no way Jim was going to travel knifeless, so when he got to Washington, Arkansas, he had James Black fashion a replacement to fit the sheath of the lost blade.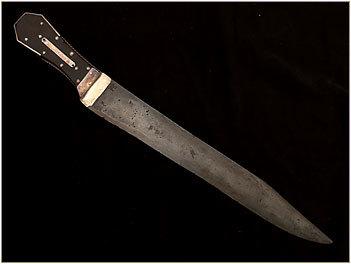 So Black made a knife for Bowie to carry on his trip back to Texas, but it was no clip-pointed, hand-guarded Bowie knife.
That new design, now universally known as the Bowie knife, was waiting for him back in Gonzales at John Sowell's smithy.